The Rainier Beach Boo Bash
The Boo Bash at the Beach serves thousands of kids and families for a FREE, safe and fun experience on Halloween. The parking lot of Rainier Beach Community Center will be transformed into a trick-or-treater's wonderland hosting dozens of booths filled with city and county government agencies, faith-based organizations, community groups, and local merchants. In addition to trunk-or-treating, there will be activities, entertainment, and lots of fun. Kids can trick or treat for surprises and sweet treats, hosted by local organizations and businesses. Safeway will be providing flu and COVID-19 vaccinations for anyone interested. 
WE ARE ALSO LOCATED AT
www.rbboobash.org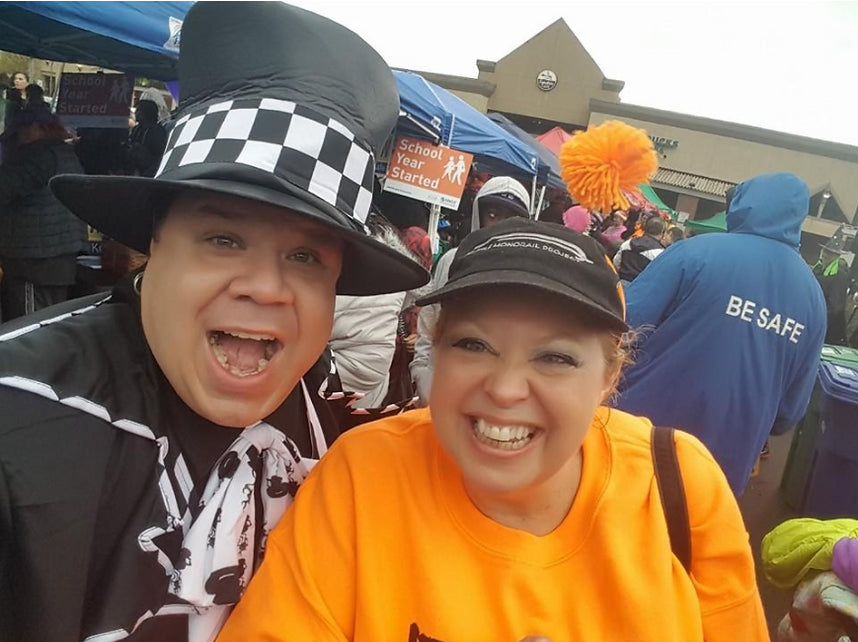 History
Cindi Laws, the original "BOO BOSS" and community activist who resides in Rainier Valley /Skyway Neighborhood created the Boo Bash at the Beach in 2014. She built the Foundation for this event for 5 years before passing it over to Danielle Jackson, who accepted the call to continue the Boo Bash in 2018. Cindi immediately trained Danielle and in 2019 she activated the Boo Bash for the first time.
Boo Bash at the Beach was created in response to the horrific gun violence pervading Rainier Valley/Skyway in 2014.
Boo Bash Founder, Cindi Laws, with longtime Emcee, Michael Cagle.
It takes a community
Safeway hosted the first event in their parking lot and did from 2014-2019, and has continued to be a major sponsor since then.
City of Seattle is also one of our major donors and many of the departments host booth to share information, resources, treats and games. The staff are very intentional on getting to know the neighbors, their concerns and what they like to see in their neighborhood.
Learn about our other sponsors